Hello, and welcome to my blog. I am a Lecturer in Digital Business.  
My research interests are based around digital business and specifically applying social network analysis to study the use of social media by different types of organisations. I have also been conducting research in the area of digital health such as exploring the use of social media by the public for sharing health messages , and exploring use of social media by physicians. 
I have authored over 30 outputs including journal and conference papers some of which are internationally recognised.  I have also authored highly read academic blog posts and my research has over 70 media mentions.  Please take a look at a list of my publications. 
I have published in the following journals:
Journal of Medical Internet Research

International Journal of Environmental Research and Public Health 


International Journal of Event and Festival Management

French Politics

Health Information and Libraries Journal

Online Information Review

International Journal of Public Health

Public Health Journal 

Journal of Communication Technology

Journal of Empirical Research on Human Research Ethics

Hospital Practice Journal

Activities, Adaptation & Aging  
In recent years I have been much in demand having delivered over 90 talks across 12 countries including the UK and covering China, Germany, Switzerland, Croatia, Belgium, Netherlands, Denmark, Australia, United States, South Africa, India, and Iraq. In total I have visited 21 different cities to deliver talks.
New book! Do you have a Twitter account, but unsure of the most effective ways to attract followers? This handbook may be of interest: A 20 Minute Quick Start Guide To: Getting Noticed on Twitter in 2020 (https://amazon.com/dp/B08358XC9J)
———————————————————————————————————–
I also have a number of media appearances, below is a video from my interview to SABC News.
In 2020 I spoke at a panel at Salford University Business School as shown below:
In 2019 I delivered a talk at the Edinburgh Science Festival and a short-clip of this can be found below:
My research has been featured in print and broadcast media all over the world and you can view a full list of media mentions here.
Below is a picture from my visit to Lotus FM and you can listen to my interview here.
In November 2019 I visited 5 cities in 5 days to talk about social media across the UK. This included: Newcastle University, Sheffield Hallam University, Salford University, BBC Birmingham , and Nottingham University!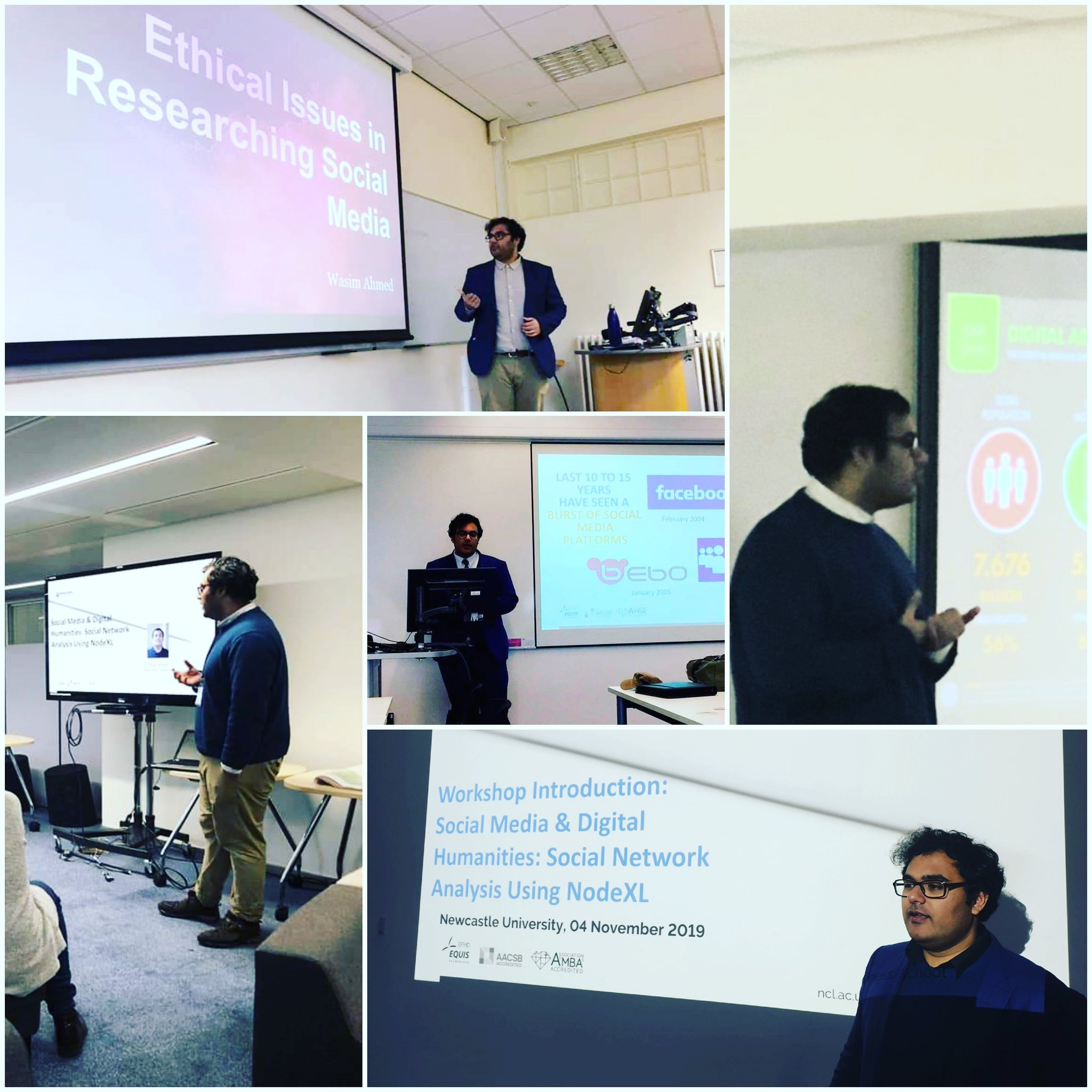 I have also authored articles for publishers such as the Data Driven Journalism Resource, and The Conversation. My articles have been shared and cross-posted across several mainstream outlets. My work has been accessed in at least 140 countries.
I am an expert in social media research and digital business more generally.
I have 29 recent LinkedIn recommendations which highlight my skill set and have worked with industry, government and the media.
I am always interested in collaborating and delivering social media talks, so feel free to contact me via email (Wasim.Ahmed@Newcastle.ac.uk) or via social media.
RECENT MOST CITED ARTICLE:
Ahmed W, Vidal-Alaball J, Downing J, López Seguí F
COVID-19 and the 5G Conspiracy Theory: Social Network Analysis of Twitter Data J Med Internet Res 2020;22(5):e19458 URL: https://www.jmir.org/2020/5/e19458DOI: 10.2196/19458 PMID: 32352383 PMCID: 7205032